Schools, Teachers, Parents, Students.
Create your
Free Account
Have a Hem-Virtues account?
Sign in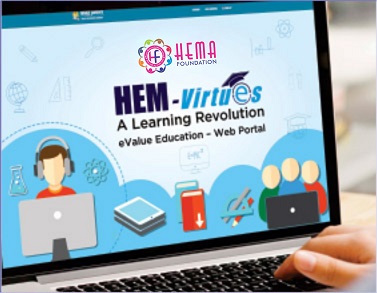 About HEM-Virtues
HEM-Virtues is aimed to be placed in the hands of educators, school administrators and teachers who have been asking for a workable framework that contains a clear picture of how to carry out education for values in schools. HEM-Virtues serves as a blueprint to help school personnel improve their understanding and practices in providing education for the holistic development of students in a more systematic and focused way read more.
Unique Features
( 23 Movies,23 Values )
Anubhuti

(Gratitude)

Kartavyanishtha

(Rationality)

Aastha

(Faith)

Safety

(Sensible)

Manavta

(Humanity)

Teamwork

(Unity)

Acceptance

(Self Strength)

Sahas

(Courage)

Ek Choti Pahal

(Respect for Nation)

Sukoon Imandaari Main

(Loyalty)

The Real God

(Love and Respect)

Best Out of Waste

(Creativity)

Sacchi Lagan

(Determination)

Value of Time

(Self Regulation)

Abhay

(Fearless)

Jiggyasa

(Curiosity)

Name Plate

(Natures Love)

Dagdu

(Confidence)

Aashaye

(Hope)

Swachhata

(Cleanliness)

Sanskruti

(Cultural Values)

Paropkar

(Kindness)

Atthani Ki Khushi

(Inner Harmony)
Value Integrated Academic Program
"The approach of HEM-Virtues portal has been to amalgamate our education with values. The fundamental assumption is that values are inherent in education. It is not possible to impart value education separately from the processes and orientations of other parts of the school system. The more integrated it is to the educational process as a whole, the better will be the outcome of imparting values."
---
Sharing the Warmth.